A few European retailers are here to seemingly dispel the report that the Xiaomi 13 Ultra will cost €1,499 in Europe.
Dutch retailer Belsimpel and its German counterpart Gomibo have the Xiaomi 13 Ultra listed at €1,299 in the Netherlands, €1,277 in Germany, and €1,320 in Ireland. All the listings have this as the EU model and show the phone as shipping within 5 to 7 business days.
This is a much more competitive price, especially considering this is a 12/512GB configuration with a 90W charger, a cable, and a case in the box. It puts the Xiaomi 13 Ultra in a great place to compete with the Galaxy S23 Ultra (€1,460 in a matching configuration), and the iPhone 14 Pro Max (a whopping €1,696 when you choose 512GB).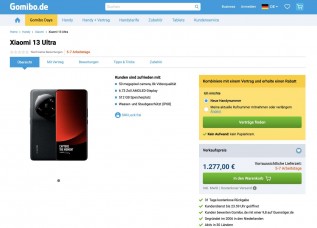 Belsimpel and Gomibo both list the Xiaomi 13 Ultra
The Xiaomi 13 Ultra is an excellent phone. We hailed it as the most versatile smartphone camera money can buy and we rate its performance and battery life as excellent.