Samsung has announced four new monitor models at the start of CES 2023. Two of these are gaming monitors, one is aimed at designers and photographers, and the last one for media consumption.
The flagship model is the new Odyssey Neo G9 (G95NC). This model features a 57-inch, 32:9 aspect ratio LCD panel. The display has a resolution of 7680×2160, making it essentially two 4K UHD monitors placed side by side, along with a refresh rate of 240HZ. This means the monitor is refreshing almost four billion pixels every second.
Powering this crazy resolution and refresh rate combo is the world's first DisplayPort 2.1 (UHBR13.5) connector, which offers a bandwidth of 54Gbps, almost twice that of the HBR3 DisplayPort 1.4a connectors (32Gbps) and also more than the HDMI 2.1 bandwidth of 48Gbps. The only devices that support this standard currently are AMD's Radeon RX 7900 XTX and 7900 XT graphics cards. The new DP2.1 standard also supports lossless Display Stream Compression to enable higher resolution and refresh rate combinations than what the raw bandwidth would allow natively.
The display has a 1000R curvature and uses mini LED backlighting with a quantum dot layer and VESA Display HDR 1000 certification. Samsung has also used a matte coating for the display to reduce reflections.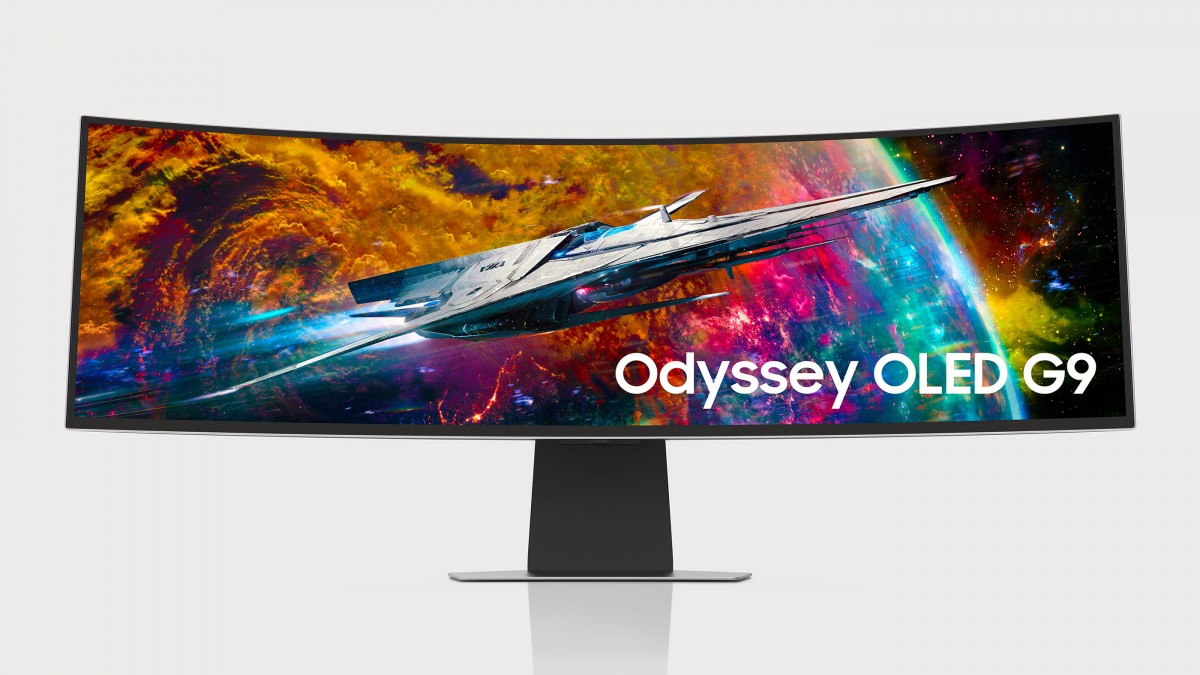 The second gaming model is the Odyssey OLED G9 (G95SC). This model features a 49-inch 32:9 OLED panel. It has a resolution of 5120×1440 (so two 1440p displays side by side) and a refresh rate of 240Hz. There is no DP2.1 support here.
The panel has a quantum-dot layer for improved color saturation and Samsung claims true RGB, which may suggest a standard RGB subpixel array, which is not common for OLED monitors. Being an OLED panel, it has per-pixel local dimming, true blacks, and a close to 0.1ms response time.
The OLED G9 includes apps like Netflix, YouTube, and Prime Video so you can watch content without plugging in a computer. There is also support for Xbox Cloud Gaming and Nvidia GeForce Now through the built-in Samsung Gaming Hub platform.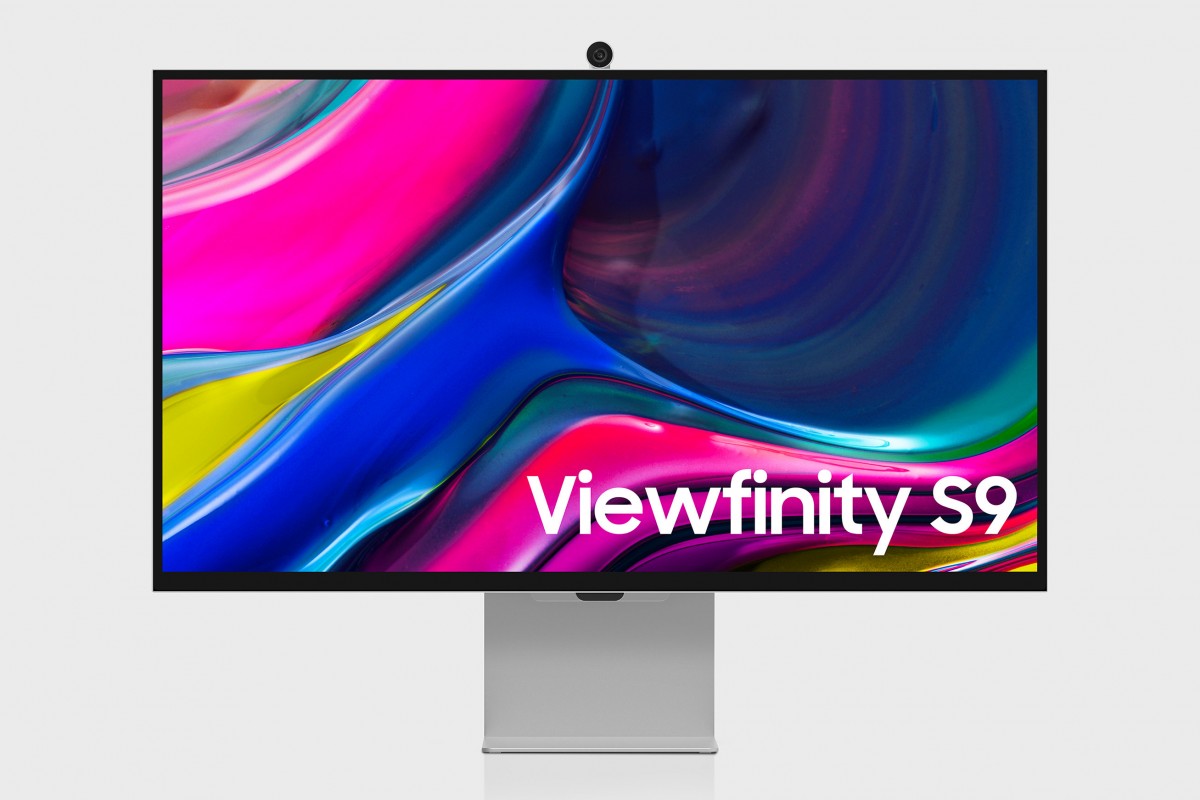 The next model is one for creative professionals. The ViewFinity S9 (S90PC) bears more than a passing resemblance to the Apple Studio Display, and also has roughly the same specifications. It has a 27-inch 5K LCD panel with a resolution of 5120×2880 (four times 1440p). Samsung claims 99% DCI-P3 coverage and average Delta E of ≦2 for color accuracy (dE in this case represents the deviation from the actual color signal and what the monitor reproduces, with dE

The monitor has a built-in color management feature, with the ability to calibrate it roughly using a smartphone and the Samsung Smart Calibration app, although creative professionals would do well to invest in an actual hardware calibration tool. The panel has a matte coating by default.
The ViewFinity S9 features USB-C and Thunderbolt 4 connections, making it ideal for use with PC, Mac, and iPad Pros. Additional ports allow connecting other peripherals as well as the bundled 4K SlimFit camera. The built-in Samsung Smart Hub has apps such as Google Meet that can work without a connected PC.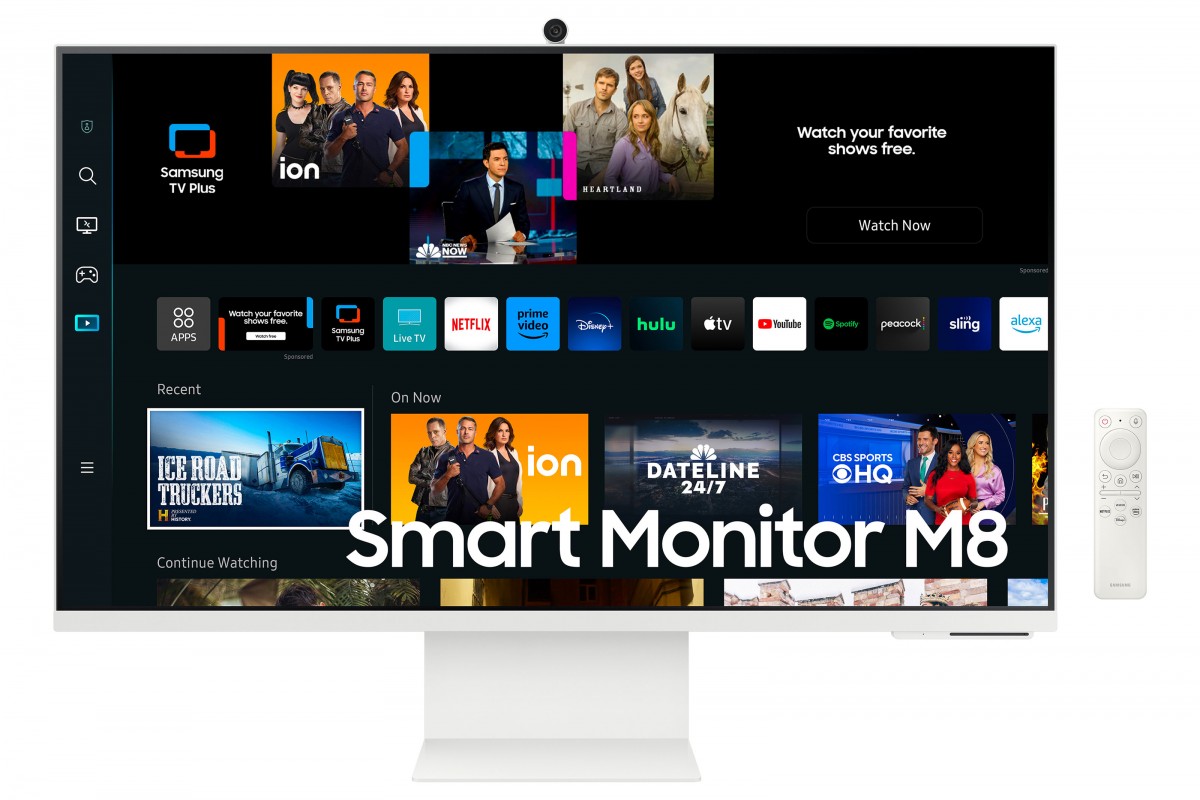 Lastly, there is the Smart Monitor M8 (M80C). This is an existing model with a 32-inch 4K panel but is now also available in 27-inch. The monitor has built-in media playback apps as well as SmartThings Hub for connecting smart home devices. This model essentially functions as a television, minus the TV tuner features.
Pricing and availability for all four models will be announced at a later date.