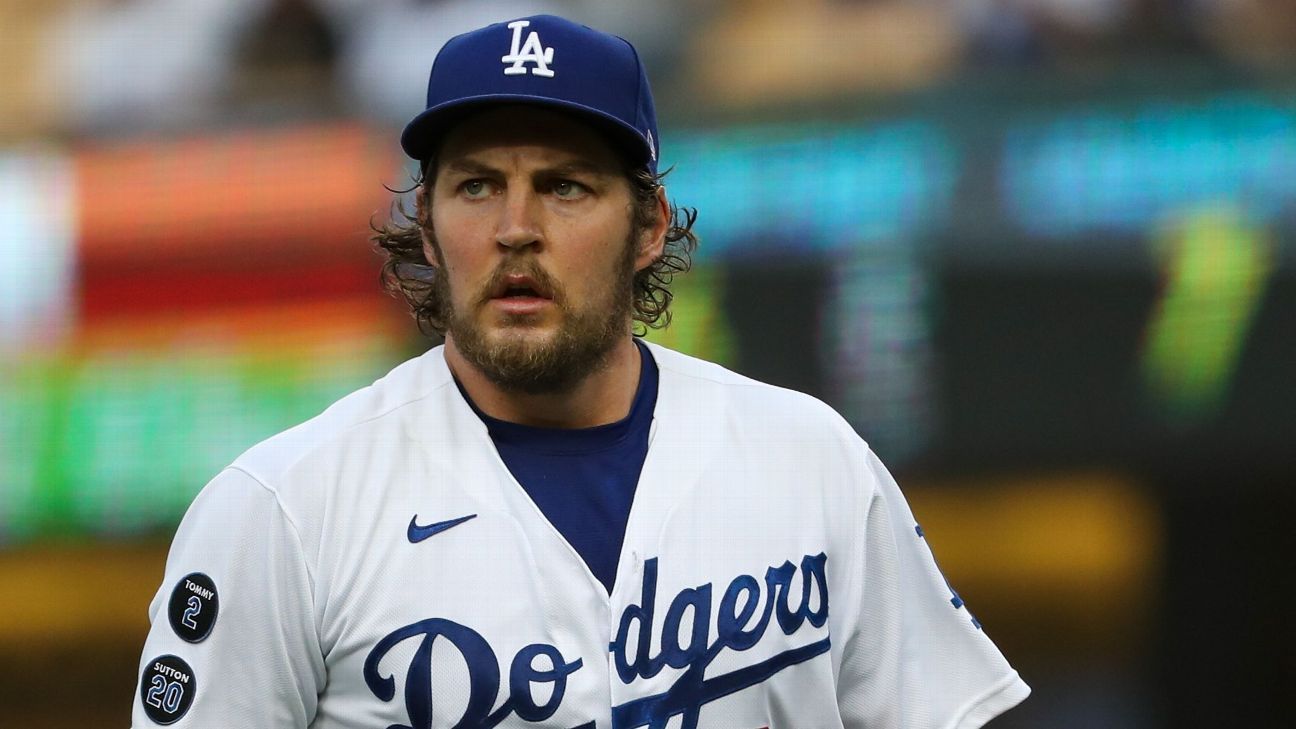 The Los Angeles Dodgers officially cut ties Friday with starting pitcher Trevor Bauer, the embattled former Cy Young Award winner who has spent the last year and a half engulfed in sexual assault allegations. Bauer was officially designated for assignment, the Dodgers announced on Friday, which means in all likelihood he'll clear waivers and be released from the team.
Two weeks earlier, on the night of Dec. 22, an independent arbitrator trimmed Bauer's suspension from 324 games to 194, reinstating him immediately but docking his pay for the remaining 50 games to begin the 2023 season. The ruling triggered a 14-day window for the Dodgers to decide whether to add him to their roster or release him.
They stretched their decision right up until Friday's deadline, ultimately choosing a route that had been widely expected throughout the industry for the last several months.
Bauer, 31, will now become a free agent. The Dodgers are on the hook for the $22.5 million he's still owed for his final season under contract but would save $720,000, the major league minimum, if another team signs him in the open market.
Bauer joined the Dodgers in February 2021 on a three-year, $102 million contract that included two opt-outs — but he hasn't pitched since June 28 of the first year.
The following day, a then-27-year-old San Diego woman filed a request for a domestic violence restraining order (DVRO) in which she alleged that Bauer assaulted her over the course of two sexual encounters at his Pasadena, California, home in April and May, prompting a prolonged MLB investigation that left Bauer on administrative leave for the remainder of that season.
Bauer, who has denied wrongdoing at every turn, claimed two legal victories in the aftermath, first when an L.A. judge dismissed the woman's request for a permanent restraining order in August 2021 and then when the L.A. District Attorney's Office declined to file criminal charges in February 2022. But two other women made similar allegations to the Washington Post. And MLB commissioner Rob Manfred, who has the autonomy to suspend players even if they are not charged with a crime, announced a 324-game suspension for Bauer near the end of April, twice longer than the previous longest penalty under the domestic violence policy.
Martin Scheinman, an independent arbitrator retained by both MLB and the MLB Players' Association, spent parts of the next eight months presiding over Bauer's case, reviewing findings and listening to testimony before determining that Bauer's suspension would be reduced to 194 games, 144 of which were served during the grievance process. Scheinman ruled that Bauer would be docked pay for his remaining 50 games at the start of the 2023 season but would be reinstated immediately, essentially leaving the rest in the Dodgers' hands.
The Dodgers, sources said, didn't expect a decision until some time in January and were caught off guard when it was revealed three days before Christmas. Their initial statement — "We have just been informed of the arbitrator's ruling and will comment as soon as practical" — was strikingly noncommittal, consistent with their approach over the previous 18 months.
The Dodgers canceled Bauer's scheduled bobblehead night and removed his merchandise from their stores shortly after MLB first placed him on administrative leave. Team president Stan Kasten later sent an email to employees in August 2021, while the San Diego woman's DVRO hearing played out, saying he was "deeply troubled by the allegations" against Bauer. Outside of that, though, the team has hardly commented publicly. And per the terms of the domestic violence policy, they weren't allowed access to the details of MLB's investigation or the reasons behind the arbiter's ruling, which at least partly explained their delay in reaching a final decision.
Bauer won the Golden Spikes Award at UCLA in 2011 and was the No. 3 pick in the MLB draft later that summer. He clashed with his Arizona Diamondbacks teammates, prompting a trade after his first full season, and was at the center of two infamous incidents in Cleveland, allegedly cutting his finger with a drone before a 2016 playoff start and hurling a baseball over the center-field fence after being removed from an outing on July 28, 2019, three days before being traded again.
Bauer made a case for the Cy Young Award in 2018, then won it while with the Cincinnati Reds during the COVID-19-shortened 2020 season. The Dodgers signed him later that offseason, outbidding the New York Mets despite rampant criticism surrounding Bauer's history of bullying others on social media. During Bauer's introductory news conference, Dodgers president of baseball operations Andrew Friedman touted the organization's culture and vetting process, adding that he believed Bauer had learned from prior transgressions.
"And you know what, we're all gonna make mistakes," Friedman said then. "What's important for me … is how we internalize it, and what our thoughts are about it going forward. From our standpoint, it was important to have that conversation. And we came away from it feeling good about it. Now, obviously, time will tell. But I feel like he is going to be a tremendous add, not just on the field but in the clubhouse, in the community, and that's obviously why we're sitting here."
In his first three months in L.A., Bauer posted a 2.59 ERA in 17 starts.