After introducing its Raptor Lake desktop CPUs in 2022, Intel now unveiled its laptop equivalents with the new 13th gen HX-series at CES 2023. The new HX Series CPUs target gamers and creators and offer up to 24 total cores with 8 performance cores and 16 efficiency ones as well as a 5.6 GHz max frequency on the P-cores. Intel claims the Core i9-13980HX is the world's fastest mobile processor.



Intel 13th Gen HX-series processor lineup
The i9-13980HX offers an 11% leap in single-thread performance and an impressive 49% improvement in multi-thread work. It supports 32MB L3 cache, 16 lanes of PCIe 5.0, up to DDR5 5600 memory and up to four Thunderbolt 4 ports. All of the new HX CPUs boast a 55W base power and a max Turbo output of 157W. The baseline i5-13450HX CPU gets 10 total cores with 6 performance and 4 efficiency ones.
In addition to the HX-series, Intel also announced a new H-series lineup of processors for "Enthusiast Laptops" with a 45W base power output and up to 14 cores – 6 performance and 8 efficiency ones.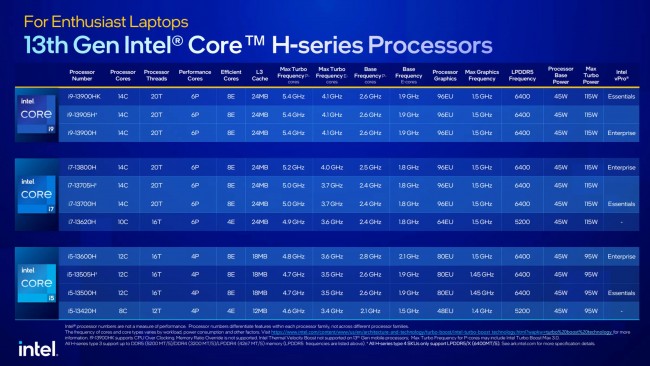 Intel 13th Gen H-series processors
Intel also announced new P and U-series processors for thin and light laptops. The more capable P-series models come in 12 and 14-core configurations with 28W power envelopes and up to 24MB L3 cache.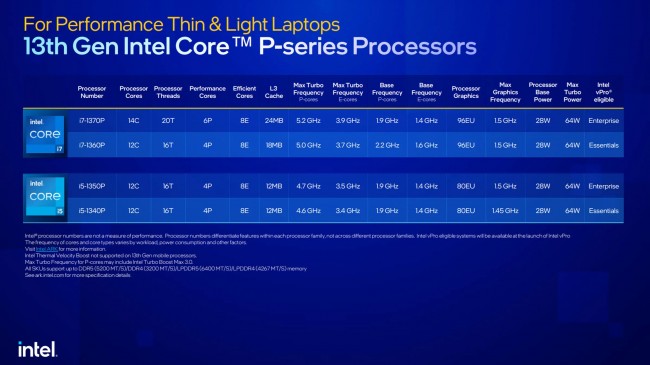 Intel 13th Gen P-series processors
The U-series CPUs offer up to 10 cores with 12MB L3 cache and a 15W base power.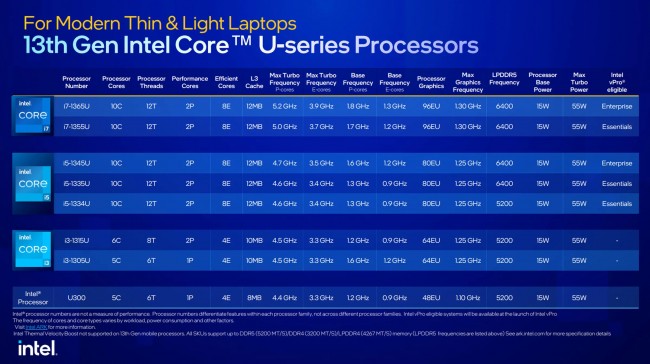 Intel 13th Gen U-series processors
Lenovo, Asus, Dell, HP, Acer, MSI, Razer, Samsung and others laptop OEMs have already confirmed new laptops with Intel's 13th gen CPUs coming to markets later this year.