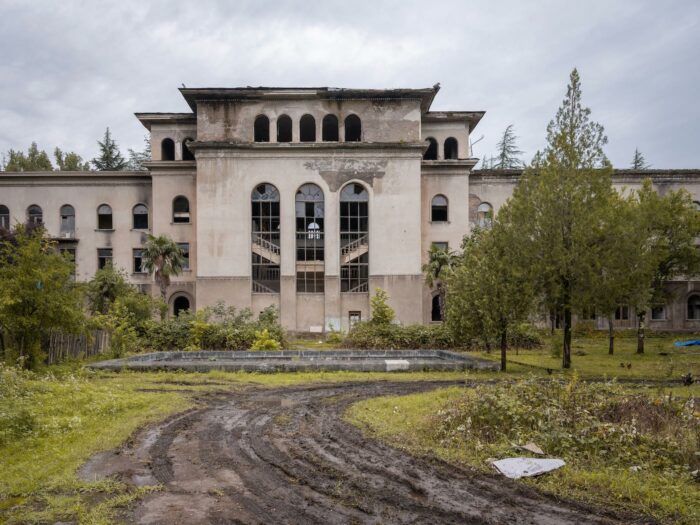 When the photographer Hossein Fardinfard first visited the Soviet-era buildings of Tskaltubo, Georgia, he was struck by an overwhelming sense of stillness and silence. Though many of these spaces had been abandoned, there were, in fact, people living here–-all of them displaced by a war that changed everything more than 30 years ago. They opened their doors to him. 
Along the way, Fardinfard met Merry, a woman who, in the 1990s, had been forced from her family home in Abkhazia, where she had lived peacefully until the Georgian Civil War. During the war, her brother and husband were murdered. Merry, along with thousands of others, escaped and later resettled in the abandoned town of Tskaltubo. There, she lived in a small room in a vast and empty building. 
"Most of the people I met told me they didn't have time to take anything with them, even their clothes," Fardinfard tells me now. They arrived only with the clothes on their backs. "When I entered Merry's room, I found myself lost in time and space," the photographer remembers. "It shot me back to an unknown time in history. It was intense, like a blackout. I could barely stand on my feet." 
The portrait he made with Merry in her room is now part of Blackout, a record of the many stories contained within the walls of Tskaltubo's old buildings. Long ago, before the war, Tskaltubo was once a retreat destination, with bathhouses, casinos, and theaters built around its therapeutic radon-carbonite springs. Grand and luxurious sanatoriums, or spa hotels, attracted thousands of Soviet-era workers. At one time, Stalin had a dacha, or second home, nearby. 
The town was abandoned following the collapse of the Soviet Union, and soon after, the Georgian Civil War broke out. Hundreds of thousands of ethnic Georgians were forced from Abkhazia as part of a conflict that's since been compared to what's happening today in Ukraine. 
"The war took everything from these people," the photographer explains. "Their lands, their homes, their family members and friends. It was a utopia that turned into a dystopia. It was an extreme, bloody massacre that occurred." Some recounted memories of the violence they'd seen; Fardinfard says they're too brutal to repeat. "Most of the people I met never even had a chance to stay and bury the dead bodies of their family and friends," he says. 
Like Merry, many of these displaced people had no choice but to move to Tskaltubo, making homes in the small rooms left behind in its abandoned buildings. "The inside of these sanatoriums looks like a hive, made up of numerous tiny units," the photographer says. By the time Fardinfard visited in 2019, it had been 26 years since their initial displacement. 
During the intervening decades, the sanatoriums had fallen into further disrepair; some experienced fires and floods. While some residents had been able to afford renovations, others had not. The situation was never meant to last so long. 
But things are changing now: the Georgian government has recently taken steps to build new houses and relocate those who were displaced back in the 1990s. As of the photographer's last trip in the summer of 2022, over 90% had moved to new homes. "I heard some investors were interested in buying the sanatoriums and restoring them," he says. "Some have already turned into historical hotels." 
This chapter in the history of Tskaltubo might be coming to a close, but Fardinfard is working to ensure that these people and their stories are never forgotten. His photographs are about a specific place—a town of nineteen Soviet-era sanatoriums, lost in time and filled with the memories and traumas of a generation of Georgians—but they're also about the consequences of war and the scars that never truly go away. 
"Once, I asked a lady in Tskaltubo about her biggest wish," Fardinfard remembers. "She said, 'The fate of Abkhazia doesn't matter to me anymore, whether it ends up staying Russian or goes back to being Georgian. I just don't want to see war again. Neither my grandchildren nor I should ever see war or exile again.' Humanity needs need more love, empathy, and compassion—war is a stream that goes in the opposite direction." 
When he visited this summer, the photographer says the sanatoriums felt even more empty and silent than they had during his first visit, with so many people having left and moved on—finally—to someplace new. But he'll always remember one thing: even when they hadn't been able to bring their clothing and belongings with them from Abkhazia, many of the people he met still carried photographs of the people they loved. "In most of the rooms I stepped into, there was a picture of a war victim hanging on the wall," he tells me. "That really struck me."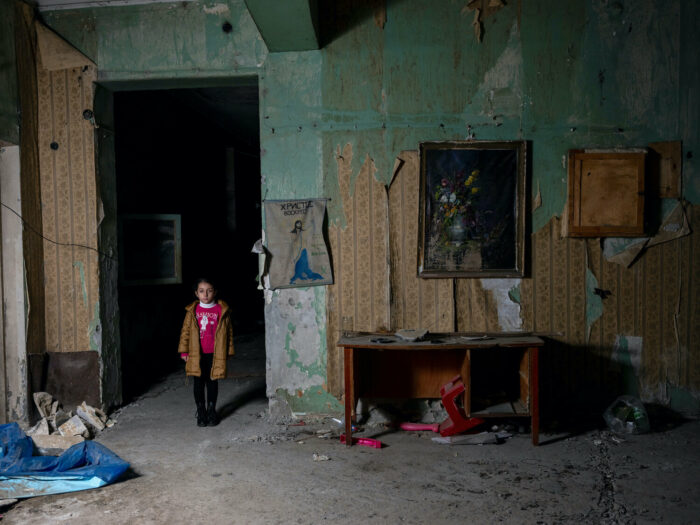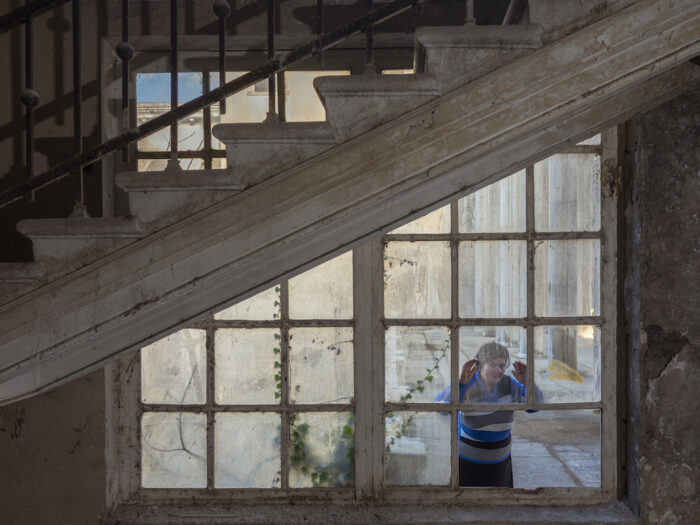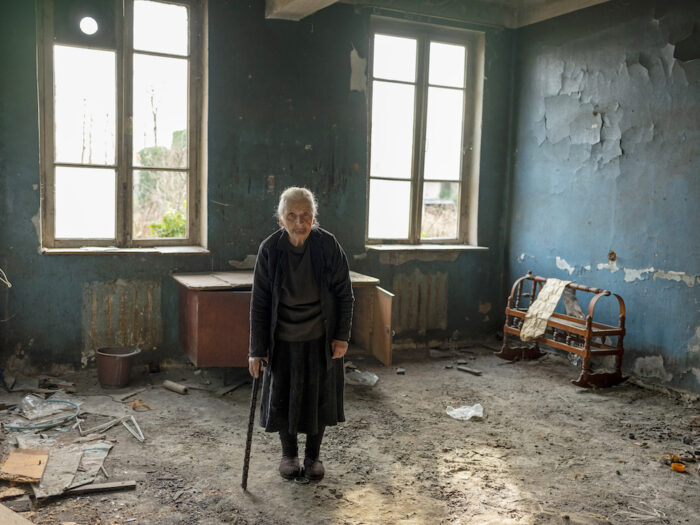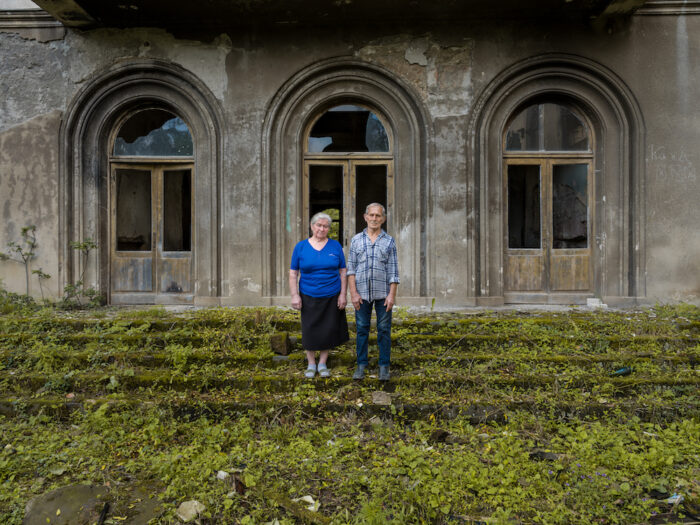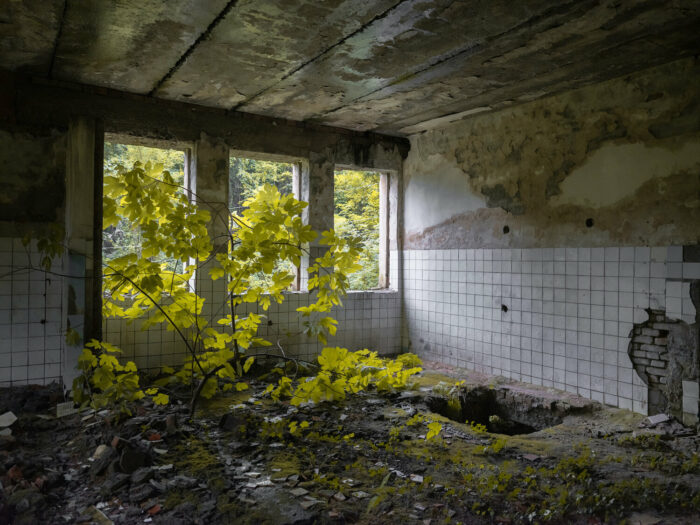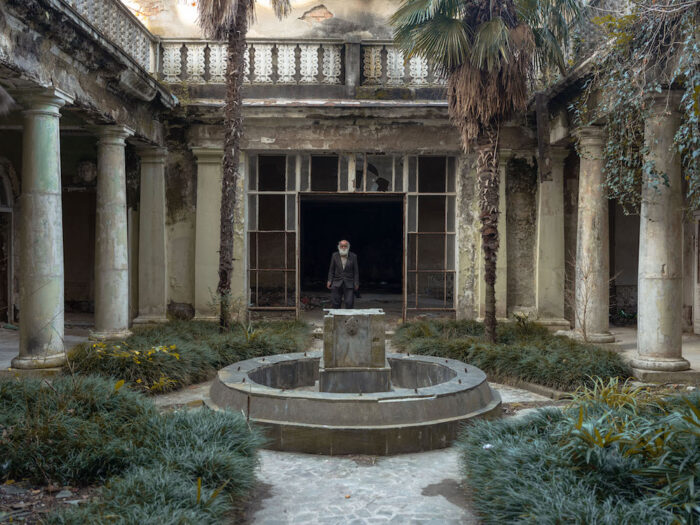 All images © Hossein Fardinfard. Hossein Fardinfard is a Top 50 finalist for Photolucida's Critical Mass.
Discover More