The Fitbit Premium subscription typically costs $10 a month or $80 if you pay for a whole year up front. The high price may have kept you from trying it, but Premium shows more detailed health and fitness data – it may be worth a try with the discount you can get through January 17.
Well, "you" if you haven't tried Premium before, which may be an issue, considering that new Fitbit devices and the Google Pixel Watch typically get several months for free.
Anyway, if you qualify you can pick a subscription that costs $4 for the first month or $32 for the first year (40% off). That last option is the best value for money as it works out to $2.67 a month (compared to $6.67 with the regular $80 subscription).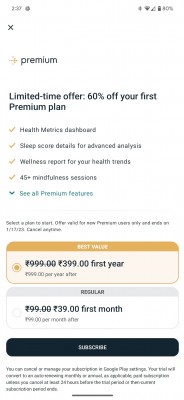 Fitbit Premium subscriptions are discounted, deal ends on January 17
There is a similar deal for India – ₹39 for the first month (down from ₹99) or ₹399 for the first year (down from ₹999), which works out to just over ₹33 a month.
Europeans should check for a discount as well, though the discounted prices are not showing up on Fitbit's website (try through the app).
You can find more details on the additional features enabled by Fitbit Premium over here. These include 200+ workouts, 200+ mindfulness sessions, sleep score breakdowns, wellness reports and more.